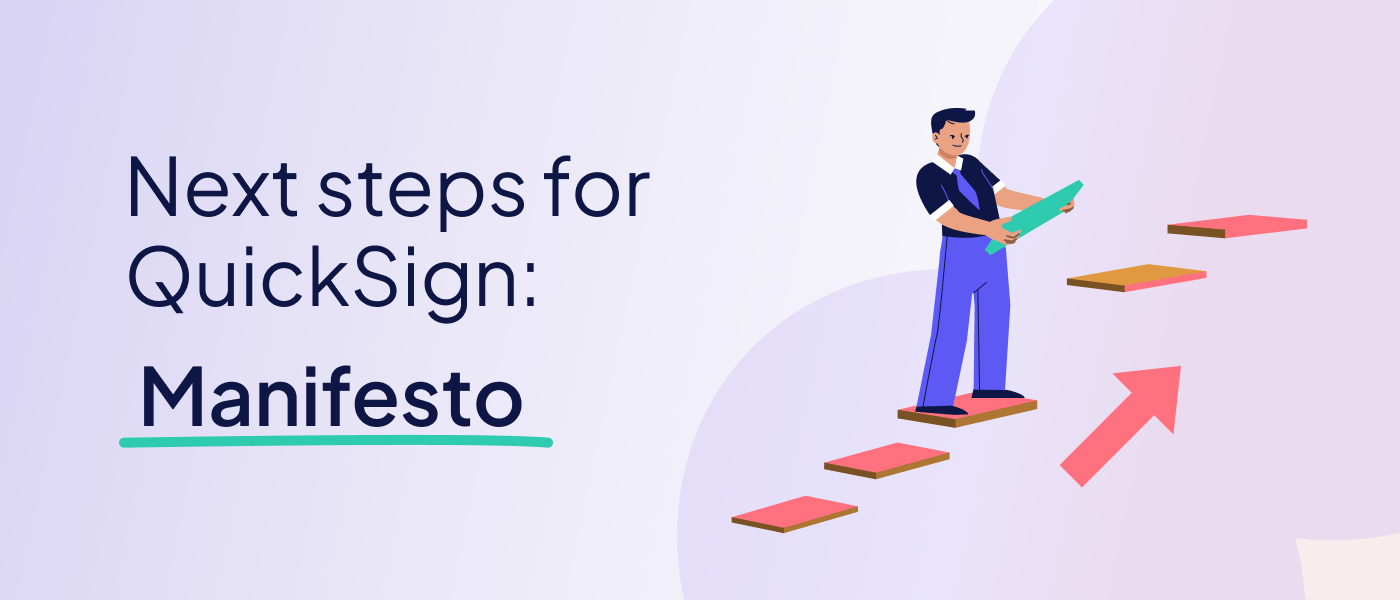 Mapping the Future: QuickSign's Vision and Ambition Manifesto
Embarking on a journey into the future, QuickSign is steadfast in its commitment to innovation, security, and customer-centricity. With a clear vision and ambition, we seek to redefine the landscape of digital onboarding and electronic signatures in financial services. This article will serve as our manifesto, outlining our aspirations and the path we intend to tread.
Innovation at the Core
As we step into the future, QuickSign is committed to placing innovation at the heart of our strategy. However, innovation for us isn't just about embracing new technology or creating cutting-edge solutions; it's about rethinking the very fundamentals of our industry in order to help current and future leaders shape the new ways of accessing financial services: instant credit, easy bank opening, seamless insurance disaster management. We aim to leverage technologies such as AI, Machine Learning, Blochains and OpenData to address the challenges and unlock new opportunities in digital onboarding and e-signatures.
Ensuring Optimum Security
Security stands at the forefront of our ambitions. Given the sensitive nature of financial data and transactions, we strive to develop solutions that are not only innovative but also uphold the highest standards of security in line with the European Central Bank. Enhancing data encryption, identity verification, and fraud detection mechanisms, we are making our solutions safer and more reliable.
Customer-Centric Approach
At QuickSign, we design simple sign-in journeys accessible for everyone. Our ambition is to make every interaction with our platform a positive experience. We aim to simplify and streamline digital onboarding processes, ensuring they are user-friendly, efficient, and intuitive. We will continue to invest in UX and UI designs, making our platforms more accessible and engaging.
Embracing the Regulatory Landscape
Understanding and navigating the complex regulatory landscape is a significant part of our ambition. We seek to actively engage with regulatory developments, using them as a catalyst to enhance our offerings. We plan to work closely with regulatory bodies and other stakeholders, ensuring our solutions are always compliant and up-to-date with the latest regulations (eIDAS, GDPR, AML Directives…)
Collaborative Partnerships
Finally, QuickSign is committed to building collaborative partnerships. We see ourselves as an integral part of the broader financial services ecosystem and aim to work closely with other institutions, technology providers, and stakeholders. We believe that through collaboration, we can drive better outcomes for our clients and the industry as a whole.
In conclusion, QuickSign's ambition for the future is clear: to be a trusted, innovative, and customer-centric partner in the financial services industry. With innovation, security, customer-focus, regulatory engagement, and collaboration guiding us, we are confident in our journey ahead.